Shopping Cart
Your Cart is Empty
Thank you for your business!
You should be receiving an order confirmation from Paypal shortly.
Exit Shopping Cart
I have spent a lifetime with horses and many years studying equine behavior. I am certified in numerous healing arts and have integrated this knowledge into my Equine Assisted Learning programs. As the Integrative Equine and Human Health Program Specialist for Pine Knoll Farm I have applied my unique background in both horse training/riding and holistic health to develop and coordinate integrative programs that promote well-being and performance in horse and human.
The HorsEmpowerment® System teaches skills to access human/horse potential. This mutual developmental experience is the result of a collaborative relationship between horses and humans. HorsePower as a Catalyst for Change!
Synergetics© is a system of energy profiling used to define areas in our mental, physical, emotional, and spiritual bodies which are out of balance or not coherent. When we bring awareness to areas of imbalance, we provide an opportunity to address the cause of the disharmony, thereby synchronizing the flow of energy to create an environment for healing and health.
Synergetics is a combination of healing modalities aligned together to create synergy in body, mind, and spirit. New resonance patterns replace "unbalanced" energy and harmonize biological rhythms creating "Syntony" (the co-ordination of resonance patterns within a system, particularly from different energy.) Synergetics can be applied individually to Equine and Human or together for Horse and Rider.
Synergetics is based on my training in Reiki, One Brain - Three In One Concepts, Color and Sound Therapy, Chromotherapy, Silva Mind Control, Young Living Essential Oils and knowledge acquired as a Metaphysician Practitioner, studies at the Hippocrates Health Institute and years of experience working with horses. I also use magnets and crystals to enhance healing.
Click here for a more in-depth bio.
"Believe in yourself and there will come a day when others will have no choice but to believe with you."
"Oh yes, the past can hurt but the way I see it you can either run from it or learn from it"
~ The Lion King
Contact at :
859.253.6838 or 859.339.1158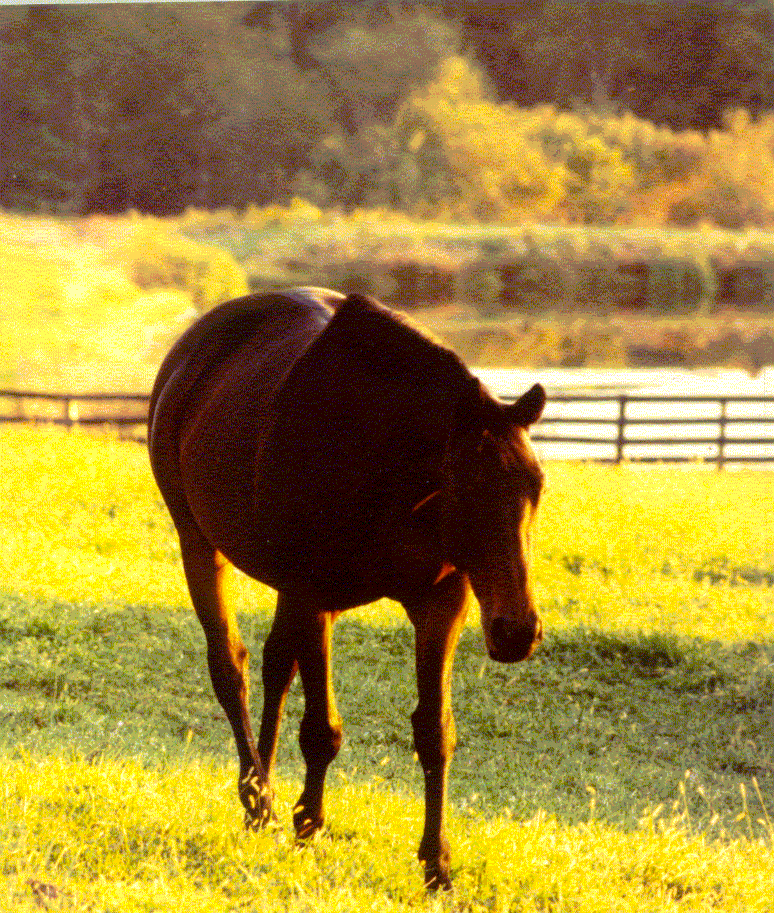 I would like to introduce my Master Teacher, Truth With Love (Zoe)

February 1985-February 2013

The following was written by my dear friend Dr Judith Shoemaker who has also been a Master Teacher on my Journey.

Zoe, the reason we all are here. In 1997 Zoe was purchased by Gillian from an eventing stable in Southeastern Pennsylvania. Zoe had a "special" disposition needing the kind attention and careful handling that Gillian gives so well. Little did Gillian know that Zoe would lead her to many lessons, much knowledge and several people that are part of the concept that is Pine Knoll Center for Integrated Horsemanship and the Four Harmony Foundation.

Zoe had been frighteningly difficult to mount and ride and Dr. Shoemaker had been called to see if her ferocity was caused by a physical problem. She was a complex case and was in treatment several times. Dr. Shoemaker got to know her quite well.

Zoe was shipped to Bemuda where Gillian resides, and Zoe began her Island career as a riding horse. She was progressing slowly in her training and was still a bit unpredictable but trying hard to cooperate. Then in the middle of the semitropical island summer, she developed anhydrosis (unable to sweat). This was life threatening since the intense humid heat could easily cause a catastrophic heat stroke.

Gillian sought desperately for information and help with this perplexing health issue, learning much in the process. She eventually consulted with Dr. Shoemaker as she had previously helped her with her many problems. Dr. Shoemaker traveled to Bermuda several times to work with Zoe and Gillian and she became fast friends. Zoe improved to the point of being sound and comfortable and when Gillian acquired Pine Knoll, Zoe moved to the Lancaster farm to pursue her next career as a mother.

Through many crises, illnesses, training impasses and breakthroughs, Zoe taught us all many useful things. She educated us in multiple disciplines and techniques. She has been our teacher, model, experimental animal and friend! She produced the beautiful Borak and has been a baby sitter for Sophie and others. She has brought together a team of people with like intent and vision and has been the raison d'etre for this beautiful facility. We all thank her for her subtle manipulation of our lives to make this happen.

0

/